Welcome to the web page for Maitreya Dunham's lab. We study genome evolution and copy number variation in yeast using experimental evolution in the chemostat (pictured below) and comparative genomics approaches. We also use yeast as a platform to study the consequences of human genetic variation.
The lab is located in the Department of Genome Sciences at University of Washington in lovely Seattle. I was previously a Lewis-Sigler Fellow at Princeton University in the Lewis-Sigler Institute.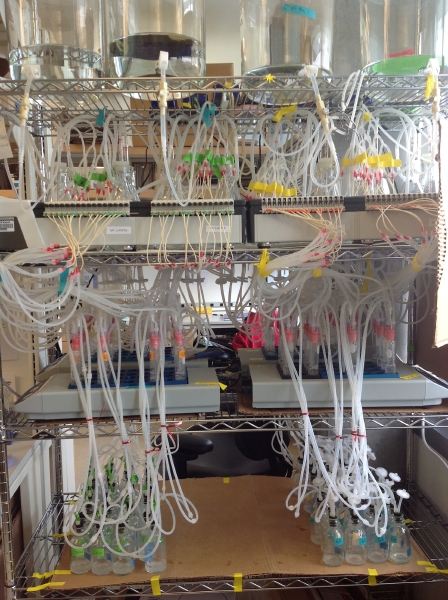 Funding
The Dunham lab is supported by grants from the National Science Foundation, National Institutes of Health, the Howard Hughes Medical Institute, the Fred Hutch/University of Washington Cancer Consortium, the American Society of Brewing Chemists, and by a gift from Karl Handelsman. Members of the lab are supported by the UW Genome Training Grant. The Dunham lab is part of the Yeast Resource Center, the UW Healthy Aging and Longevity Research Institute, the Brotman Baty Institute, the BEACON Center for the Study of Evolution in Action, and the Pharmacogenomics Research Network. I am an HHMI Faculty Scholar.
I'd like to thank the BBI, the Canadian Institute for Advanced Research, the Rita Allen Foundation, March of Dimes, Marian E. Smith Junior Faculty Award, the Royalty Research Fund, the Ruth Kirschstein Fellowship, the UW Aging Training Grant, the Interdisciplinary Training Grant in Cancer, and the UW Commercialization Gap Fund for prior support of me and members of my lab.
COI statement: I am a co-founder of Phase Genomics.